Activists, councilors, residents, protest Trans Mountain project
Fires, climate change, oil spills and health risks at the heart of their concerns
Reprinted from https://burnabybeacon.com/
Lubna El Elaimy, Local Journalism Initiative
October 17, 2023
It was a modest gathering on Oct. 14 at the corner of Shellmont St. and Underhill Ave. near the Trans Mountain nature trail and one of the gates of the Trans Mountain tank farm. About 50 people showed up, some of them bearing banners with different variations on the theme of "Stop the TMX Pipeline." While the gathering included people of all age groups, it skewed towards seniors, some of whom used mobility aids such as walkers and canes. New Westminster City Councillor Tasha Henderson arrived early with her family bearing a banner with "Babies for Climate Action" in bold, colourful letters. Some of the activists brought camp chairs.
The location the activists picked was sandwiched between enormous tanks to one side and a nature trail and forest to the other side, bursting with autumn colours and a glorious array of yellow, orange, red, brown, and green. Joggers and cyclists came through every now and then; one cyclist even stopped to join the protest. Single-family houses dotted the area across the narrow Shellmont St., just meters from the tank farm's perimeter fence.
Before the event started, The Beacon spoke with Dr. Tim Takaro, physician and professor emeritus of health sciences at SFU, who explained that during his research into the health effects of climate change, he became increasingly concerned about the potential threat the tank farm and pipeline expansion would pose to human health on Burnaby Mountain and beyond. He is also worried about the project's fire risk, saying, "what is in these tanks and the pipeline is diluted bitumen, which is the Alberta tar diluted with what's called condensate, which is essentially like gasoline, it's very, very flammable. To move tar, you have to dilute it. So that's what's being stored here," he added that it is in the middle of the largest forest in the city, "In the late summer, this place really dries up, it's extremely dangerous, so whether you have a fire starting in there or out here it's dangerous. The fire chief says that the way they have built this, they can't fight the fire."
Takaro also cited a report by Burnaby Fire Chief Chris Bowcock on the risks associated with the pipeline and tank farm expansion. Bowcock provided a detailed assessment of the potential dangers of the project. The report found that the pipeline and tank farm expansion project would be a significant fire risk. Takaro said that with climate change, these risks are expected to worsen, with drier summers and more heat waves increasing the potential of severe fires. Takaro added that despite the opposition from Burnaby, New Westminster, Vancouver, SFU, and the UniverCity community, the project continues. Takaro added that the federal government bought the project when "a Texas oil giant said it's too risky for us" and is currently a drain on taxpayer money. "The cost has gone from 7.4 bn to 31 bn. It's way past their break-even point. They won't break even for 100 years. We can't afford to be pumping oil for 100 years," Takaro said.
Before the first speakers took the mic, music played from the loudspeakers, and one of the activists wearing a dinosaur suit started dancing. She held a sign saying, "T-rex Against TMX," and her companion had another sign saying, "The Planet is On Fire." Following the brief dancing interlude, activist Alison Bodine, one of the organizers with Climate Convergence Metro Vancouver, took the microphone and started chanting, "Hey, hey, Trudeau, this pipeline has got to go!" The crowd repeated the chants after her. She then spoke about the project and the associated cost of $30bn, "which should be spent on housing, healthcare, education, social justice projects for people here in Canada, trampling on indigenous rights over sacred territories without permission and is also a danger to people here on Burnaby Mountain, residents of Burnaby Mountain, over 40,000 students at Simon Fraser University just up the hill."
Next, Jim Leyden, the elder at the Coast Salish watch house on the trail near the event's location said, "We talk about reconciliation, and we have to ask what it is…If this is truly unceded territory, this is land that we have never given to anybody; we have a right to say no to these guys. We have the right to say no, you will not put this dirty oil onto our land, and you'll not ship this, the filthiest oil in the world; you will not ship on boats on our Salish Sea. You will not do anything that threatens our blackfish, our salmon, that threatens our environment. But we're not allowed to say that. We get thrown into jail when we say that." He added, "This is existential; we have to be able to fight as hard as we can. There's never been a more important fight in this world."
UniverCity resident Karl Perrin spoke about how when he and his wife first moved to UniverCity, they had no idea there was a tank farm in the area. "We thought other people have moved in here, so they must be water tanks, but no, they're filled with crude oil, and now they're building 14 new tanks to go with the 12 old tanks." He added that the floating roof design of six of the tanks had caused fires in earthquakes in Turkey, Japan, and Alaska. "These six very dangerous tanks were completely ignored and never brought up to code when they got the approval for the 14 new tanks," Perrin said. He added that while the new tanks are up to present-day seismic standards, the old tanks built in 1952 still need to be.
While Perrin was speaking, two police cars arrived, and officers spoke with Takaro and other organizers, informing him they had received a call that the gathering was disturbing the peace. The officers remained for a few minutes, walked around, and observed the protest, and then left without incident.
John Clague, professor emeritus of earth sciences at SFU, spoke next about so-called black swan events, which he defined as "events nobody else can recognize but actually happen and in hindsight are considered inevitable." Such events, Clague noted, cause catastrophes around the world. One example he gave was of a fire at an oil refinery in Turkey after an earthquake in 1999. Clague added that black swan events that are possible concerning the tank farm include the possibility of a large earthquake. "What would happen is that the ground would roll like ships at sea, so the ground would deform under you. It wouldn't be what you'd think of as vigorous, violent shaking. It would be rolling motions, which would set in motion what Karl described as the sloshing effect, which would for sure cause the bitumen to escape the tank and possibly deform the tank and start these fires. Why do we accept that risk?" He added that there's also a possibility the tanks might fail from fatigue, triggering fires and spills.
"This is an unacceptable risk. This is a possible black swan. I wouldn't say it's going to happen, but it's a risk that we should not have to face," Clague said.
If the government does not heed their warnings and protests, Takaro predicts there will be "more heat domes, more fire seasons like we just saw, more floods, more people suffering and dying."
Coun. Henderson also spoke at the event about the impact of climate change on future generations, saying that the "antidote for fear is action, so we formed Babies for Climate Action." She added that the local governments of Burnaby and New Westminster were working toward becoming carbon neutral in the coming decades, but this is impossible when the federal government overrides their work. "We take one step forward and get flung ten steps back."
After the event, Jim Leyden took several press members to the watch house. It was a short walk down the adjacent nature trail, and the small watchhouse was a space for education and observation. A large aerial photo of the area was taped to one wall, showing the extent of the tank farm, the surrounding forest, and the size of deforestation and logging that had occurred in the area to build the tank farm. Leyden said to The Beacon, "Mainstream people have to stand up to the oil industry. Same thing happened with tobacco. We've seen it happen before, so we have to stand up and say that's enough. That's my worry about the next election. We're going to vote out Trudeau and vote in a different tyrant, so we have to say in this election that we're not going to vote for anyone who votes for oil."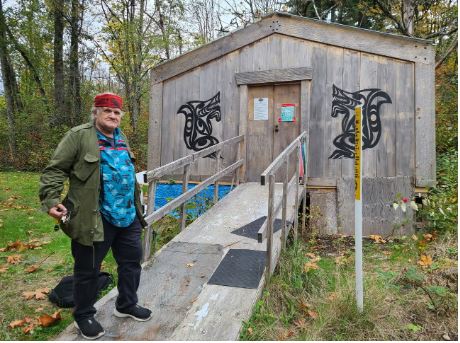 At the time of writing, the Beacon had reached out to Burnaby Fire Chief Chris Bowcock several times for comment but had yet to receive a response. You can find Chief Bowcock's report about the potential hazards associated with the project here.