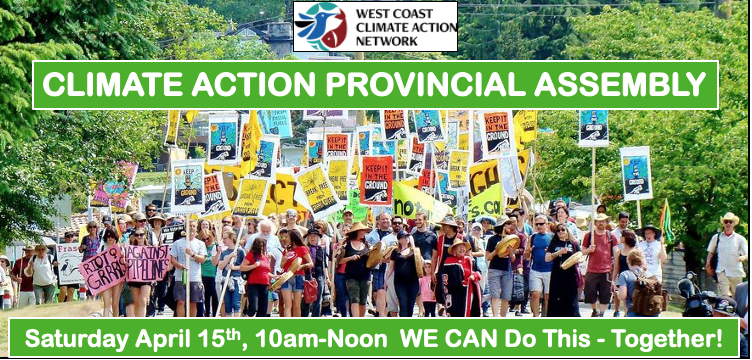 Let's Come Together and Build a Stronger BC Climate Movement!
When: April 15th, 10am-noon
Where: Online (register to be sent zoom link)
Why: Craving connection with fellow climate activists across so-called B.C.? Want a sense of momentum and cohesion in our movement? This assembly will be an opportunity to meet fellow climate activists and members of climate groups, learn about and contribute to current campaigns, and work together on areas of shared interest. We hope the Assembly will provide the sense of hope and connection that is so needed in this moment, as well as the practical space to coordinate and scheme for what's next.
What: The event will include a quick State of the Movement analysis, followed by two rounds of choose your own breakout groups with campaign leaders the following topics:
Protecting Old Growth Forests
Frack Free BC
Stopping Liquefied Fossil Gas
Getting Gas out of New Buildings
Reducing the Price of Heat Pumps
Stopping RBC/Fossil Fuel Finance
Stopping TMX
Transportation
Food and Farming
The BC Climate Emergency Campaign
The Youth Climate Corps Campaign
Labour Climate Organizing
Climate Organizing within the BC NDP
Climate Organizing within the BC Green Party
We hope to see you there!


From all of us in the West Coast Climate Action Network
We honour the title and rights of the Indigenous peoples on whose ancestral lands we live and work.