Climate Convergence Statement – February 6, 2020
No TMX and CGL Pipelines!
Unfair, Unjust and Unacceptable Government Attacks Won't Stop the Struggle
In only one week the government of Canada has trampled Indigenous rights in favour of climate killing pipeline projects twice. First, there was the Federal Court of Appeal ruling in favour of the Trans Mountain Pipeline Expansion (TMX). Now they have arrested and attacked Wet'suwet'en land defenders in an attempt make way for the Coastal Gaslink (CGL) pipeline. The struggle against TMX and CGL, and in defense of Indigenous rights and Mother Earth continues!
The Federal Court of Appeals has done its best to ignore the obvious on TMX: It is impossible for the Federal government, which has already purchased a pipeline project for $4.5 billion dollars, to retroactively consult in good faith as to whether or not they should build it.
The Federal and BC Provincial governments are doing their best to ignore the obvious on CGL as well: There is no "free, prior and informed" Indigenous consent for the pipeline when resistance on the ground is so strong and all five Hereditary Chiefs of the Wet'suwet'en unanimously oppose the project.
However, this unacceptable decision also opens another chapter of successful Indigenous-led resistance to the TMX and CGL Pipelines. It is this resistance in the courts and in the streets that forced Texas oil giant Kinder Morgan to abandon TMX and has stalled both projects so far. Kukpi7 Judy Wilson, Secretary-Treasurer of the Union of BC Indian Chiefs emphasized that, "The court's decision does not signal defeat; rather it signals a renewed call for all of us to collectively work together to permanently halt the project and make it clear to Canada and BC that they can't adhere to reconciliation only when it serves their interests."
The Federal and BC Provincial governments continue to insist that a new dirty Tar Sands and hydraulically fractured "natural gas" pipelines are in our interests. This despite having already sunk billions of taxpayer dollars into the TMX project whose costs are ballooning and whose market value is misrepresented. As global warming and its associated extreme whether events continue to wreak havoc in Canada and around the world – prolonging the extreme pollution of Tar Sands oil and "fracked" natural gas production is a recipe for climate disaster. Adding insult to injury, consideration of the TMX's catastrophic climate impact was purposely excluded from every regulatory review and court decision.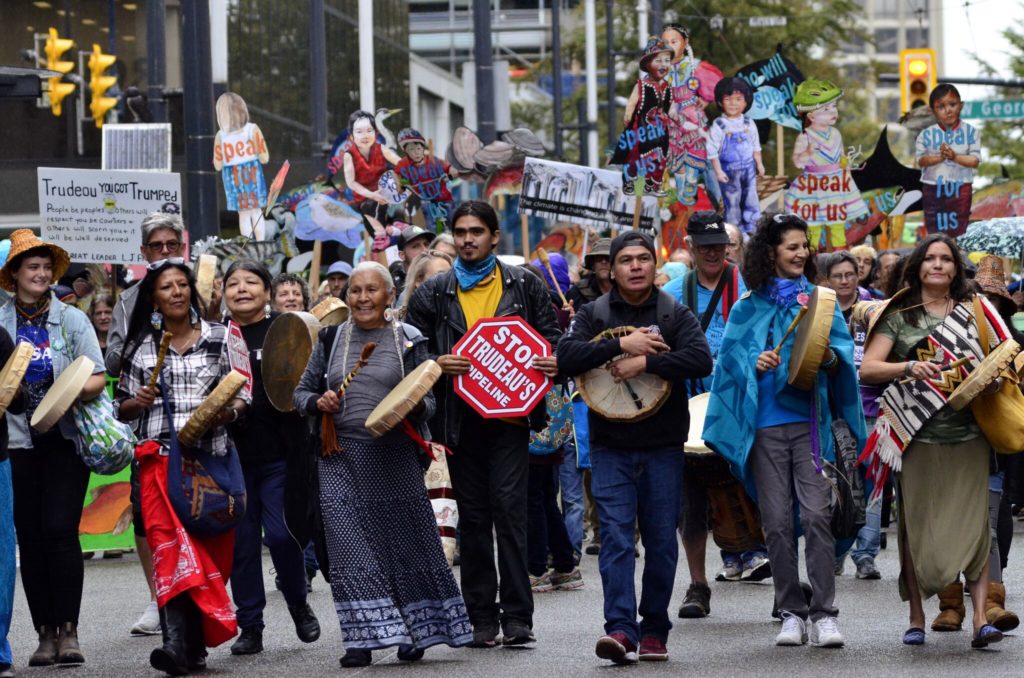 If we gave up this struggle every time there was a disappointing government or court decision, the TMX and CGL pipelines would be have been built long ago. Our most important task continues to be what has been effective so far: sustained mass action and campaigns uniting as many groups and communities as possible to stop the pipelines.
As Climate Convergence we remain fully committed to:
– Mobilizing in solidarity with the many Indigenous Nations defending their traditional territories and right to self-determination;
– Organizing with young people rising up to demand a healthy future;
– Uniting with everyone in Canada and around the world demanding people and planet before pipelines and profits.
As Climate Convergence we demand

– No TMX and CGL Pipelines!
– Stop harassing Indigenous communities and land defenders everywhere!\
– No violence, no attack and no arrest of Wet'suwet'en land defenders!
– No to RCMP invasion of Wet'suwet'en!
In Defence of Mother Earth, we say: "No TMX and CGL Pipelines! Build Our Future, Not Pipelines!"
Climate Convergence Metro Vancouver – www.climateconvergence.ca