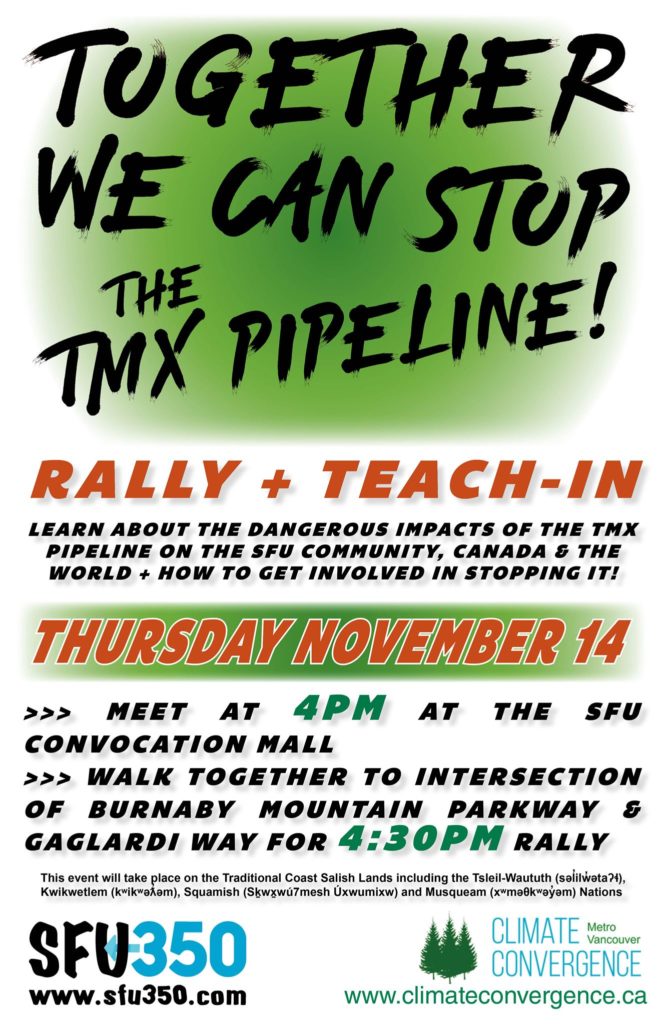 4:00 Meet at Simon Fraser University Convocation Mall
4:30 Rally at the Intersection of Gaglardi Way and Burnaby Mountain Parkway
Concerned students and community members will be joining together to highlight the extreme danger of the Trans Mountain Pipeline Expansion (TMX). Local residents already face the dangers of an oil storage facility ("Tank Farm") on the side of Burnaby Mountain, and the overall climate impacts of building a Tar Sands oil pipeline during what the Canadian government has already declared a "Climate Emergency" are catastrophic.
The TMX pipeline project would see 14 additional oil storage tanks added to the Tank Farm. A 2015 report from the Burnaby Fire Department outlined many potentially deadly scenarios on Burnaby Mountain, including flammable crude leaks, poisonous gases, fires burning for days, and exploding tanks spraying molten crude, igniting other nearby tanks and the wildfires spreading from the tank farm.
Over 40,000 SFU students, faculty and staff – as well as 5,000 residents of the "UniverCity" development – could be trapped. A previously suppressed report commissioned by the National Energy Board (NEB) revealed that Trans Mountain's plans for dealing with a fire emergency would see a response team arriving at least 6 hours after an emergency took place.
The project is opposed by the Tsleil-Waututh Nation, on whose traditional territories the TMX pipeline would terminate. Their own Report Assessment detailed the devastating consequences to marine life which would result from a seven-times increase in oil tanker traffic if the pipeline is built.
For the past 10 years Indigenous and other communities organizing have stalled the TMX pipeline. Prime Minister Justin Trudeau bought the pipeline with $4.5 billion of our taxpayer dollars and is still maintaining that it will be built. Thus, it makes it impossible for Canada to meet its United Nations Climate commitments.
We need to work in unity to defend our communities and planet. Together and united we can put stop to this project. We demand a climate justice government that prioritizes the environment, education and healthcare above corporate profits!
ACKNOWLEDGEMENT
This event takes place on the unceded traditional territories of the Coast Salish peoples of the səlil̓wətaʔɬ (Tsleil-Waututh), Sḵwx̱wú7mesh (Squamish), and xʷməθkʷəy̓əm (Musqueam) Nations.
SFU 350 | www.sfu350.com | info@sfu350.com | @sfu350
Climate Convergence | www.climateconvergence.ca | climateconvergence604@gmail.com | @climate604 | 778-889-7664