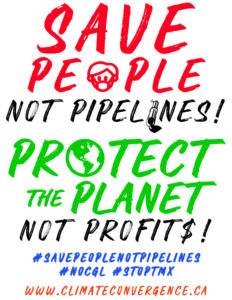 A statement by Climate Convergence
Climate Convergence sends our love and solidarity to everyone around the world fighting in defense of our communities and our mother earth during these difficult times. The Covid-19 pandemic has created challenging and uncertain times. We are very much looking forward to the day we can be on the streets with all of you – fighting for climate justice and the better world we all believe in. For the time being that's not possible, but we wanted to reach out and say that we are committed to this struggle, and to finding safe ways to keep fighting.
In the past weeks we have seen many inspiring examples of communities coming together to protect the most vulnerable, but we have also seen many blatant examples of governments and corporations prioritizing the profits of the few over the well being of the many.
Locally – our most urgent demands are to immediately halt all construction related to the Coastal GasLink and TMX pipelines, as well as the Site C Dam. While Prime Minister Justin Trudeau and Premier John Horgan urge people to "go home and stay home" due to the public health crisis, they maintain a reckless commitment to continuing construction on these mega-projects.
Wet'suwet'en Nation members report that Coastal GasLink is continuing to clear forest and deliver pipe on their territory. The Unist'ot'en Camp posted a statement decrying the urgently obvious: "Indigenous communities are already at increased risk from this pandemic, due to a lack of adequate health care and housing infrastructure. CGL and RCMP's actions are compromising our health and safety. They are carrying on with business as usual, acting as though they are above the law and above common decency."
On Burnaby Mountain, TMX tank farm construction and pipeline expansion preparation continues non-stop. Not to mention that the TMX pipeline expansion is owned by the government of Canada and funded by tax-payers – to the tune of at least $12 billion and counting. This is the kind of money that could have been used for creating jobs in renewable energy or today could be used to help working people in this pandemic.
BC Hydro also continues to fly people to Fort St. John to work on the Site C dam, despite 16 workers already in "self-isolation" due to flu-like symptoms. "Site C is not a vital thing to our society," said Fort St. John's city councillor Byron Stewart. "I personally would just like to see the province step in and shut it down and send everybody home." However, the provincial government, as self-appointed corporate and government champions are showing no willingness to stop putting fossil fuel workers and the surrounding community in danger.
Now the federal government is considering a multi-million dollar bail out of the oil and gas industry in Canada. This is not what people in Canada, or the planet needs. We demand that these mega-projects be stopped immediately, and the billions in bailouts go directly to workers and communities in need, not the corporations.
We must work together and unite with all those around the world who are saying we can not go back to "business as usual". We will fight back to save the planet. Communities have shown they are able to work hard and make sacrifices, but poor and working people in Canada shouldn't be the ones shouldering the burden of the current health crisis that is mainly the result of mismanagement and dysfunctionality of the capitalist order. We've seen how fast governments can act and mobilize billions of dollars to corporations when they really want to – and we won't forget it when it comes to demanding they act on the climate crisis and they continue to turn their faces the other way.
Climate Convergence bases a lot of our work on public awareness and mobilization, so organizing public activities in a time of Covid-19 presents a new challenge. However, we will soon announce some exciting new initiatives, to continue the struggle for the environment and plan to come out of this difficult situation with new skills, connections, and a renewed conviction that a better and sustainable world is both necessary and possible!