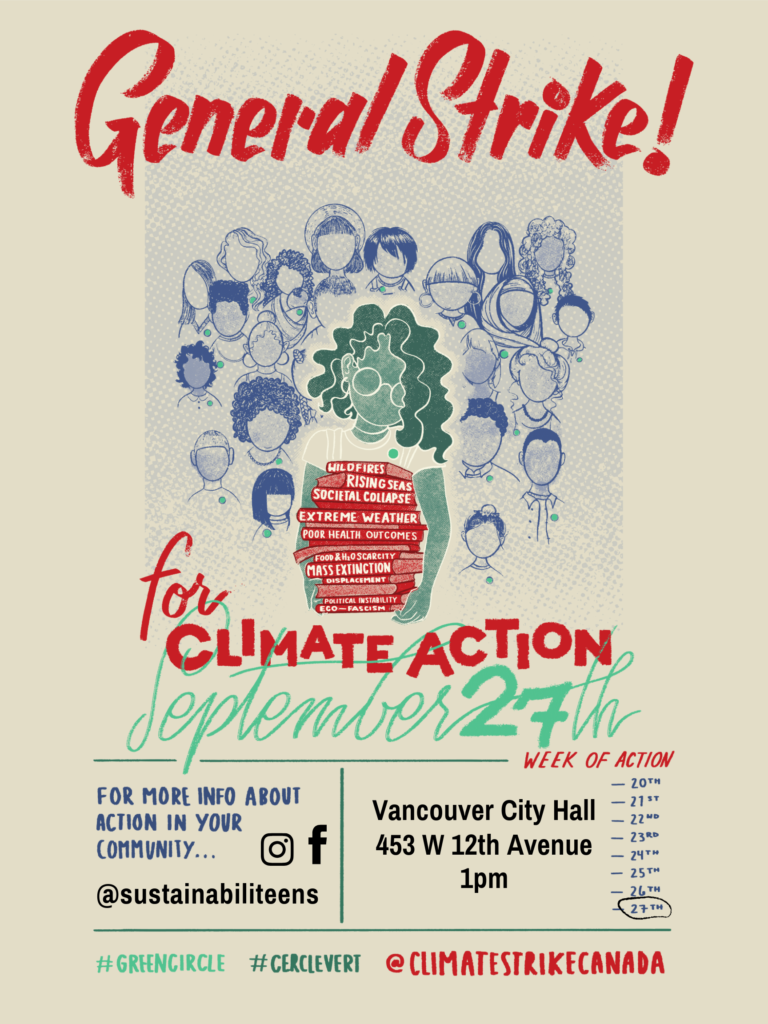 Teenage Climate Strike leader Greta Thunberg has finally arrived in New York after a two week ship voyage across the Atlantic. She also headed straight to the United Nations for a Friday protest! Things are gearing up around the world for the International Climate Strike from September 20 to 27, and Vancouver is no exception.

Organized by the Sustainabiliteens and Climate Strike Canada – students are organizing daily actions in Vancouver culminating in a mobilization starting at 1pm at Vancouver City Hall (Cambie and 12th Avenue) on Friday, September 27. They will be walking out of class in large numbers across the Lower Mainland and are "calling on parents, unions, businesses, and the general public to join us in an international #EarthStrike for climate action."

Please do everything you can to be there and participate in this crucial action. You can join and share the Facebook event here: https://www.facebook.com/events/659383604564246/ and visit the Climate Strike Canada website here: https://climatestrikecanada.org/english

Climate Convergence is among many local climate justice organizations doing our best to support this student-led initiative. We have been getting hundreds of posters up around the city, and are planning on doing a big push on Wednesday, September 11. Our goal is to get posters up in every major neighbourhood across the Lower Mainland to make sure the ClimateStrike is impossible to miss – and we're confident we can do it with community support! We will be meeting in front of the Blenz Cafe at Broadway and Commercial in Vancouver at 6:30 pm – and spreading out from there. Please contact us if you would like to poster with us – the more people the better.

As people living in a country where the government declares a "Climate Emergency" one day and approves a massive Tar Sands pipeline the next, we need to make sure the Trudeau government knows we aren't fooled by their cynical maneuvers, and support the students who are leading the fight for climate justice!