Trudeau "Emissions Reduction Plan" is a Recipe for Climate Disaster
Climate Convergence Statement
April 3, 2022
On March 29, 2022, the Trudeau Liberal government released the "2030 Emissions Reduction Plan: Canada's Next Steps to Clean Air and a Strong Economy." This $9.1 billion plan claims to provide the roadmap for Canada to achieve its 2030 emissions reductions targets and reach net-zero emissions in 2050. Instead, it is nothing but a pretty package that hides more oil and gas extraction and export. Trudeau is selling us electric cars while continuing the business-as-usual environmental destruction.
The Trudeau government would also like us to forget that since the Rio de Janeiro world climate conference in 1992, no government in Canada has ever met a climate target. Although this plan professes to provide the pathway to meeting the targets for the first time, a closer look reveals that it is nothing but a sham. Trudeau's "Emissions Reduction Plan" enables:
More oil and gas to be produced in Canada in 2050 than in 2019. A year ago, the Cascade Institute released a report, "Correcting Canada's 'one eye shut' climate policy," which analyzed the Trudeau government's climate policy, on which the emissions reduction plan is based. The authors of the report found that "more oil and gas is expected to be produced in 2050 than in 2019—the oil and gas sector in Canada will still be emitting some 200 megatons of CO2 [carbon dioxide, a greenhouse gas] equivalent in 2050."
Billions of dollars in government handouts to highly polluting industries. The Trudeau government's plan has included $50 billion in new tax credits for carbon capture utilization and storage (CCUS). The majority of carbon-captured is used for "enhanced oil recovery," – meaning that this is yet another subsidy that will increase fossil fuel production in Canada. This is on top of the taxpayer money that they already receive on a regular basis. According to Environmental Defence in 2020, the first year of the global pandemic, when people in Canada were suffering under an underfunded and under supported healthcare system, the Liberal government gave $18 billion in subsidies. In 2021, the total was $8.6 billion. In 2021, oil and gas corporations, some of the world's wealthiest corporations, made record profits. Just 100 of these corporations are responsible for 70% of global emissions and uncalculated environmental destruction. So why is Trudeau giving them billions in taxpayer money?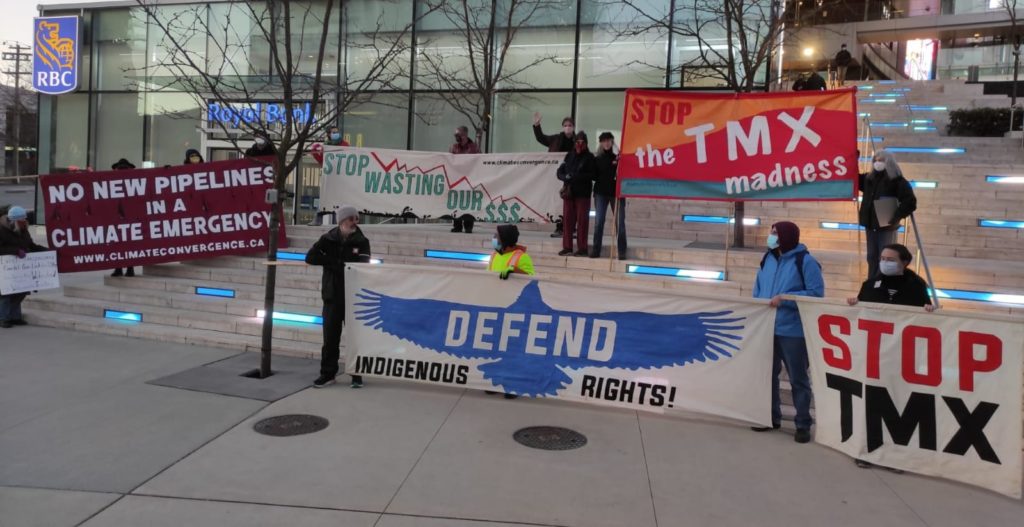 Construction of the climate killing Trans Mountain Expansion (TMX) pipeline. It's not just the subsidies, in 2018, Trudeau spent $4.5 billion taxpayer dollars on buying the existing Trans Mountain pipeline and the Trans Mountain Expansion project. Construction costs for TMX are now estimated at least $21.4 billion to complete this disastrous pipeline, which will triple the amount of dirty tar-sands oil being transported from Alberta to BC. On top of violating the rights of the Indigenous peoples whose land the pipeline crosses and destroying fragile ecosystems, the TMX pipeline will have a greenhouse gas footprint equivalent to over 84 million tonnes of carbon dioxide annually, when accounting for emissions from extraction, production and the burning of the fuel.
This destructive plan also doesn't prevent the government from investing in or approving further climate disasters, just to name a few:
– On March 29, the government of Canada announced that it was entering into negotiations with the United States government and Lockheed Martin for the $19 billion purchase of 88 F-35 fighter jets. The only purpose of these killing machines is to destroy humans and nature. They also consume gigantic amounts of highly specialized jet fuel and emit greenhouse gases directly into the higher layers of the earth's atmosphere.
– In April, the office of the Minister of Environment and Climate Change is expected to announce their decision about the Bay du Nord offshore oil drilling project in Newfoundland and Labrador. This project, if approved, could extract up to 200,000 barrels a day and emit 30 million tonnes of carbon dioxide each year. What terrible hypocrisy it would be to approve this project only days after announcing an "emissions reduction plan."
– Fracked gas projects such as the Coastal GasLink (CGL) pipeline in British Columbia will also continue. CGL is part of the LNG Canada "carbon bomb" project, which has an annual greenhouse gas footprint equivalent to more than 50 million tons of carbon dioxide just in Phase 1. To add insult to injury, if completed, the CGL pipeline would run through the unceded territory of numerous Indigenous nations, including the Wet'suwet'en – whose hereditary chiefs have made it clear they oppose the project.
Canada already has a disproportionate and unsustainable impact on global climate change, and the "emissions reduction plan" will not change this equation:
– Canada has the highest per capita emissions of the G20 countries.

– Since the 2015 international Paris Climate Agreement, Canada is the only G7 country where emissions have risen.
– Between 2018 and 2020, Canada provided more public financing to oil and gas companies than any other G20 country.
– The Climate Action Tracker ranks Canada's climate policies, legislation, and government action as "highly insufficient." They state, "If fully implemented, Canada's current policies are not enough to achieve this target and are only in line with 4°C warmings. Canada is also not meeting its fair-share contributions to climate change and in addition to strengthening its targets and policies also needs to provide additional support to others." According to a majority of the world's climate scientists, 4°C is a death sentence for the majority of the world's population.
Protecting mother earth and preventing the most harmful impacts of catastrophic climate change is not just about reducing greenhouse gas emissions. Environmental degradation is also brought on by increasing pollution, contamination, loss of species, biodiversity, and valuable ecosystems, and all destructive and unnecessary resource extraction, including logging and mining.
People in Canada and around the world do not need a $9.1 billion "emissions reduction plan" of smoke and mirrors. We demand that the government of Canada stop lining the pockets of oil and gas corporations and stop giving them the green light to expand their production. Anything else is a sham! We have had enough of the Trudeau Liberal government's lies!
Government inaction to confront the climate crisis is a call to join the struggle in defense of Mother Earth and in defense of Indigenous rights. Living in British Columbia this means joining together in educating, organizing, and mobilizing against the TMX and CGL pipelines, stopping the Site-C Dam and defending the old-growth forest.
We must unite to fight against environmental destruction in all its forms, understanding that they are symptoms of the rotten capitalist system which prioritizes corporate profits over the needs of people and the planet.
System change, not climate change!